Senior Support Engineer (IntelliJ IDEA)
Опубликовано 07.07.20
Senior Support Engineer (IntelliJ IDEA)
JetBrains
Уровень зарплаты
от 170 000 руб.
Тип занятости
Постоянная работа
График
Полный рабочий день

JetBrains is a Way of Life. This is a place where bright people find interesting software development challenges to solve on a daily basis. If programming is your joy and passion, and code quality is as natural to you as breathing, at JetBrains you are guaranteed professional growth, unlimited creativity and the Drive to Develop. Now we are looking for an experienced support engineer for IntelliJ IDEA. If you have a strong software engineering background and know how to handle customers' requests, feel free to send us your application. Your future tasks:
Deeply investigate users' issues and provide a bug localization for our developers. Provide technical support for IntelliJ IDEA via email, community forums, and social media. Work with the bug tracker: process new requests and the old-aged ones. Reproduce users' issues and create bug reports for them. Contribute to the product development based on the customers' common problems and needs
Your profile:
5 or more years of experience in technical support and/or software engineering. Experience in Java development. Excellent written English. Familiarity with Windows/Mac/Linux. Deep knowledge of network protocols. Experience in using bug-tracking systems. Good communication skills
It would be definitely a plus if you have:
Familiarity with IntelliJ IDEs. Experience in a QA position. Experience with Java application servers. Understanding Version Control Systems. Knowledge of databases would be a plus
We offer:
Spacious comfortable office (open 24/7) with a private parking lot. Competitive salary: determined individually, but above industry average. Bonuses based on your performance. Voluntary health insurance for employees, their spouse, and their children under age 18 (including dental insurance). 5 weeks of paid vacation. Full salary during sick leave. Flexible work schedule. Hot meals, free drinks, fruits, and snacks. Office library with specialized work-related books and magazines. Office gym (with washrooms), massage room, and a recreational zone. Training, including English and German language classes. Opportunities to travel to professional conferences in Europe and the US. Job relocation help

Контактные данные
Для того, чтобы просмотреть контактные данные этой вакансии, вам необходимо войти на сайт. Если у вас еще нет учетной записи, пожалуйста, зарегистрируйтесь.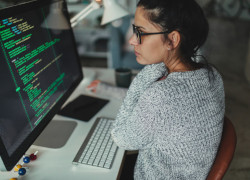 Хотите предложить свои услуги на международном рынке?
Регистрируйтесь и размещайте сервисы на MicroTasks.io! (English only)