Business/System analyst
Опубликовано 17.09.20
Business/System analyst
Axiom Software Laboratories
Уровень зарплаты
договорная
Тип занятости
Постоянная работа
График
Полный рабочий день

Founded in 1991, AxiomSL is the global leader in software solutions for enterprise risk management, data management, regulatory reporting and compliance. We employ 1000+ people in over 20 countries across North America, Asia Pacific, Latin America, Europe, Middle East and Africa. This is a very exciting opportunity to be a part of our dynamic team in Saint Petersburg. AxiomSL is looking for a Business/System analyst that will take part in development of our main product ControllerView®. What is ControllerView®? ControllerView® is an enterprise-data management platform for analytics and regulatory reporting requirements. It has the capability and flexibility to deal with any level of complexity of information particular to a client's organization. This high-performance platform transparently aggregates clients' data from multiple siloed systems, enriches and validates it to any level of granularity, and then runs the data through relevant calculations and populates the reports. It delivers data lineage, risk aggregation, workflow automation, validation and audit functionality and supports disclosures in multiple formats, including XBRL. Work hours/environment: While working with a global team, this position requires some flexibility of work hours. The position is based in Saint Petersburg but due to COVID-19, the hired candidate will commence remotely and receive virtual equipment and on-boarding. What you'll responsible for:
Collecting, gathering, analyzing and documenting business requirements; Creating and reviewing user stories, acceptance criteria, use case scenarios; Work with the Product team to validate scenarios and requirements, and to prioritize them; Work with the Development team on feature design and low-level technical specifications; Work with the Documentation team on client-level documents; Work with the UX team on implementing and reviewing the UX designs; Work with the QA team on building and validating test scenarios; Work with Product team and Technical Support team on change requests and bug/feature analysis, Presentation of the products and technologies to stakeholders
What you'll need? 
Experience as a system/business analyst in the development of enterprise software; Knowledge of Software Architecture, Security, Cloud; Presentation skills, writing skills, written and spoken English; Exposure to UI/UX design; Management experience is a plus; Software development or testing experience is a plus
What you can expect from us: 
A warm, friendly, and dynamic team of international colleagues.  Competitive salary and annual performance-based bonuses.  Flexible work schedule.  Medical and travel insurance.  English lessons with native speaker.  Office in the city center.  Partial reimbursement of any sport activities.  Cosy kitchens with fruit, snack, sweets and wide choice of tea and coffee.  Opportunities for growth and development within the team and AxiomSL.  Continuous learning and experience in a feedback-oriented environment.  A commitment to staff-care and work life balance. 

Контактные данные
Для того, чтобы просмотреть контактные данные этой вакансии, вам необходимо войти на сайт. Если у вас еще нет учетной записи, пожалуйста, зарегистрируйтесь.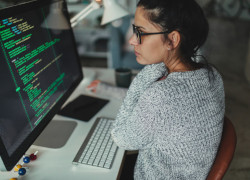 Хотите предложить свои услуги на международном рынке?
Регистрируйтесь и размещайте сервисы на MicroTasks.io! (English only)