Firmware Developer (RTOS) IoT
Опубликовано 16.09.20
Firmware Developer (RTOS) IoT
Electrolux
Уровень зарплаты
договорная
Тип занятости
Постоянная работа
График
Полный рабочий день

ELECTROLUX PRESENTS Turn needs into Global Connectivity solutions. For us going to work every day has an even greater purpose than putting the latest product or technology on the market. It is about improving the everyday lives of millions. By staying humble and open for new ideas – we can push the boundaries for cooking, cleaning and wellbeing at home. We have created a competence center called Global Connectivity & Technology which is responsible for development of our ecosystem for Connected Appliances. But to keep doing so, we need more people who want to innovate and re-imagine what life at home can be. As a Firmware Developer, you will be joining the Global Connectivity & Technology team in St. Petersburg (Russia). We are a team of highly qualified engineers with strong industrial, supporting development of new platforms and services globally and across categories. Your role is to design firmware for innovative embedded systems for connected consumer appliances with significant security requirements. You will be assigned to develop new products/modules/systems and improve currently used technologies and methods. We offer you a role in a company that is going through a digital transformation and moving towards a consumer-focused organization. We believe that smart appliances will further enable us to deliver great customer experience and we hope that you would like to join our journey. We believe you have a passion for delivering remarkable consumer experiences to succeed in this role. You are comfortable in sharing your innovative ideas with your colleagues, as well as working in an international environment. OBJECTIVES If you are passionate about innovation, possess superb C programming skills and enjoy dynamic, international environment, join us and strengthen our Team which on everyday basis supports all Electrolux product lines with the best-in class software. KEY OPERATIONAL RESPONSIBILITIES
Develop software for RTOS and Linux embedded based systems Debug and test Take care of documentation
FUNCTIONALLY REPORTING TO
Engineering Director
COMPETENCIES NEEDED Academic Background: Master or Bachelor Degree in Electronic Engineering or Computer Science Professional Experience:
Experience as a firmware developer for RTOS systems Experience as a software developer for embedded Linux Experience as a software developer for Windows is a plus Experience within open source projects, also for personal interests, and SW tools like Jenkins, Bitbucket, Jira Experience in projects interacting with mobile apps or Internet cloud is a plus
Technical skills:
Superb knowledge in C/C++/Python language programming Knowledge in networking programming Knowledge and experience on computer networks, networking and TCP/IP protocols is a plus Knowledge in cybersecurity is a plus Cloud tech knowledge (AWS, Azure, IBM cloud)
Soft competencies:
Willing to keep technical background always up-to-date, commitment to technical excellence Team oriented Willing to travel and to stay on different Electrolux sites when required Good communication skills Proactive, takes initiatives Problem-solving skills English speaker B1 as min level
We offer:
Flexible working time (8 hours on weekdays starting at 9am-11am) Competitive salary Reimbursement of lunches Fully official terms of employment with social guarantees Extended medical insurance (dental and life included) Close cooperation with colleagues based in Europe, USA and beyond Business trips to Europe and beyond Stable and secure job in an international company Great working atmosphere with team of professionals Modern and comfortable office Fitness center with a swimming pool (in the business center)
We offer you a software development role in a world leader company that is going through a digital transformation. We hope that you would like to join our journey towards a more connected society, and you enjoy a multi-functional and international working environment. Join our Global Connectivity and Technology Center and become our new team member!

Контактные данные
Для того, чтобы просмотреть контактные данные этой вакансии, вам необходимо войти на сайт. Если у вас еще нет учетной записи, пожалуйста, зарегистрируйтесь.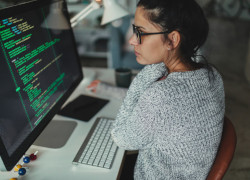 Хотите предложить свои услуги на международном рынке?
Регистрируйтесь и размещайте сервисы на MicroTasks.io! (English only)