Key account manager
Опубликовано 07.07.20
Key account manager
Xpate
Уровень зарплаты
до 200 000 руб.
Тип занятости
Постоянная работа
График
Полный рабочий день

what we're looking for We are looking for YOU if you are good at communication and love challenging yourself. Know what is onboarding process and skilled in e-commerce then welcome on the team! what you'll be working on
Helping clients at all stages of cooperation; Getting to know the company, opening a client, supporting his work and resolving emerging issues, advising on necessary services - we expect you to become the best friend of our clients; Active participation in creating a professional and close-knit team - you are ready to learn new things and share knowledge with the team; Onboarding new clients; Communication with clients;
what you need to succeed in this role
Excellent knowledge of Russian and English - you will need to communicate with clients both verbally and in writing; Experience in working with clients in the financial sector is important, as you will need to get involved in the work quickly; The desire to work, learn and develop - we do not have strict limits and restrictions and we want to see active people who are not indifferent to their work, who will take the initiative and drive the development of themselves, the team and the company;
what we offer
an opportunity to fulfill your greatest ambitions to conquer the world market - you can stand at the origins of history; career prospects - we are young, we have huge ambitions and it is important that our employees grow with us; work with coworkers who are passionate about their business; absolute flexibility throughout all processes (lack of a strict hierarchy, the ability to influence the company's development); flexible schedules; Netflix, Coursera, Bookmate subscription; compensation that will fully correspond to the competence and knowledge; the opportunity to attend conferences, courses, and professional development at the company's expense - we favor the continuous development of our employees; extended employee benefits
about us xpate is a neobank focused on international retail and business сlients, and, like any startup, we believe in one life-changing idea: our company creates an easy and sleek financial ecosystem by covering all payment needs of businesses worldwide. Our aim is to modify the whole payments sector through revolutionary approach that will allow us to turn money transfers into a mind-changing experience. By offering universal solutions using design-centric approach we are making international transactions hassle-free and accessible to everyone

Эта вакансия неактуальна. Пожалуйста, воспользуйтесь поиском, чтобы найти актуальные вакансии, или опубликуйте ваше резюме.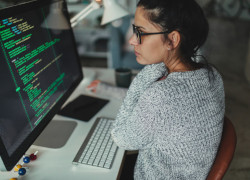 Хотите предложить свои услуги на международном рынке?
Регистрируйтесь и размещайте сервисы на MicroTasks.io! (English only)