Technical Operations Manager
Опубликовано 06.04.21
Technical Operations Manager
Netcracker Technology Corp.
Уровень зарплаты
договорная
Тип занятости
Постоянная работа
График
Полный рабочий день

Since 1993, Netcracker Technology has been developing and implementing unique IT solutions for more than 250 customers worldwide, mostly telecom providers. We create dozens of innovative products and lead the global market of BSS/OSS solutions ready to be used in the cloud environment. Our comprehensive portfolio of software solutions and professional services enables large-scale digital transformations, unlocking the cloud's opportunities, virtualization, and the changing mobile ecosystem. We are currently looking for a Technical Operations Manager Why join our team:
Work on design, development, and customization of mission-critical solutions to world-leading telecom companies; Implement and support innovative technologies such as 5G, eSIM, Internet access by satellites in low Earth orbit, IoT, etc.; Get unlimited opportunities for professional and career development in a global company
What you'll do:
Manage production and non-production IT environments; Manage incidents, problems and requests related to application, database, middleware or cloud infrastructure; Work with Customer Support, Professional Services, QA and Development teams to resolve application issues; Conduct Root Cause Analysis; Plan and implement new IT environments; Plan and execute Production Readiness Testing; Create and maintain documentation such as infrastructure design specifications and diagrams, operational guides and methodology documentation; Implement automated procedures; Create change implementation plans; Review and approve changes as part of CAB; Define backup and data retention schemes; Plan and monitor environment capacity; Monitor security patches availability, assess risks and ensure timely deployment of patches; Client interface for communications regarding environment operations and maintenance; Coordinate changes and issues related to infrastructure and IT environments; Deliver Root Cause Analysis; Deliver capacity and SLA reports; Liaison with vendors for issues, bugs, etc.; Managing a team of Infrastructure Software Engineers; Manage team tasks; Create and maintain team shift roster; Provide introductory trainings to newcomers
What we are looking for: The Technical Manager should have 10+ years of experience with the following abilities:
Supporting large scale, mission critical 7 x 24 solutions; Telecom - OSS/BSS domain experience; Oracle Weblogic, Java application deployment and configuration including highly available configurations; Understanding architecture and principles of the Oracle DB operation and administration; Oracle DBA experience is a plus; PostgreSQL DBA experience is a plus; Excellent troubleshooting skills including java and DB performance issues analysis; Enterprise Linux systems administration at level to understand principles of resource allocation and monitoring, system startup sequence, system configuration; Understanding principles of TCP/IP, routing, application network traffic balancing and failover; Experience with micro-services architecture (RedHat OpenShift or Kubernetes) is a plus; Experience in managing applications with external authentication providers (i.e. LDAP, MS AD, SSO); Understand principles of PKI/Certificates; Understanding of Continuous Delivery and DevOps methods; Experience with DevOps tools Jenkins, Ansible, Git; Experience in implementing monitoring of the business applications; Excellent knowledge of ITIL; Team leadership skills, sufficient to lead implementation of IT environments per design specifications; Excellent communication and team building abilities; Leadership qualities such as conflict/issue resolution; Business-like presence and ability to interact professionally with Customers; Fluent English
We offer:
Competitive salary; Medical insurance, covering dental services and online consultations with doctors; More than 300 hard and soft-skills programs by the corporate career development center; Open environment and encouraging knowledge sharing culture; Free English courses and opportunity to practice foreign languages daily; Flexible working hours and an opportunity to work remotely

Контактные данные
Для того, чтобы просмотреть контактные данные этой вакансии, вам необходимо войти на сайт. Если у вас еще нет учетной записи, пожалуйста, зарегистрируйтесь.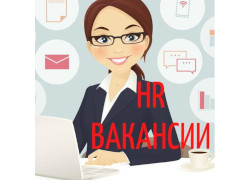 Хочешь получать актуальные вакансии прямо в Телеграм?
Подписывайся на Телеграм канал HR Вакансии!